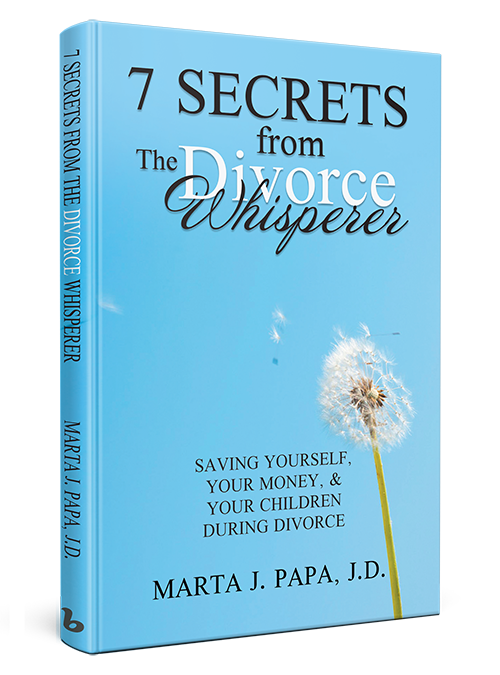 Book Provides Hope for People Considering Divorce
If you want to survive the life crisis of divorce, this is the one resource you need.In this book, divorce attorney and mediator Marta J. Papa applies her 25 years of experience to help people trapped in fractured, unhappy marriages find their way out. For readers considering divorce, the book asks tough questions to help them evaluate if a divorce will really resolve their unhappiness. Also, she explores how divorce affects children and what can be done to mitigate the negative impact on kids. Finally, she wrote this book to guide readers through the maelstrom of the divorce process and throw a lifeline to a better future with clarity, inspiration, and hope.
Published in 2019, 7 Secrets From the Divorce Whisperer provides those considering divorce with the information to calm their waves of anger, frustration, and fear. Also, it will help cut through the confusion and sort out feelings to prepare for the critical decisions ahead. Likewise, this book is a blueprint for saving yourself, your money, and your children during divorce. If you want to survive the crisis of divorce, this is the one book you need.


Book Launch Celebrates 5-Year Labor of Love
I invite you to watch the video of my book launch celebrating the 7 Secrets From the Divorce Whisperer's publication. With friends, family, and colleagues,I commemorate the completion of a five-year labor of love writing the book. In the video, you will find candid comments from experts such as professors and lawyers who have used this book as a textbook in teaching classes on divorce. Also, you will hear from a single frightened soul whose hope was restored after reading this book. Feel the celebration and the joy that filled the room that evening, which I will never forget as the proudest and most inspiring evening of my life.
My goal in spending every weekend writing was to share everything I could think of that would inform and inspire people considering divorce and facing the crisis of divorce. This book includes most of the legal and psychological discoveries I have learned about children, families, and divorce over the past 25 years. I have profound empathy for people caught in the turmoil of a failed marriage. This connection stems from experiencing a divorce myself. When my marriage was falling apart, I prowled the aisles of bookstores, searching for a book that would offer compassion and knowledge while uplifting my spirits. I wanted a book I could trust to help me cut through the mental fog of emotion and think my way forward. However, most of all, I was looking for HOPE.I knew such a book would nourish my brain and provide a tonic for my soul.
Even though I found several books about divorce, not a single one brought all the elements together in the way I needed. At that moment, I decided to write a book about divorce that was missing from the shelves. The result was this book. It's the one I needed and could not find. And it's a book for everyone considering divorce and facing the life crisis of divorce. It's a time that no one is ever really prepared to face.
Top Reviews of 7 Secrets from the Divorce Whisperer

It is wonderful that this lawyer/author, is swimming against the tide of misery inflamed by many divorce attorneys. This is the first thing you should read if you are considering a divorce. I recommend reading it before going to "relationship therapy" because the thoughtfulness and experience of this author will really help you clarify specific issues. Save thousands by reading this before calling any attorney.
M. Knight
Absolutely Great

What a superbly written book for anyone considering or going thru a divorce. I so appreciate that the author clearly lays out the tough questions that must be answered. It points out the importance of honestly deciding what life should and must look like. The author gives excellent descriptions and examples of the many 'kinds' or 'types' of divorce, with pros & cons of each. I really like the Rabbit & Fox analogy to understand the 'fight or flight' scenarios. It helped me understand that kids don't think like, or reason like adults. There are certain do's and don'ts to help the kids cope with their personal situations. Chapter 5 has truly helpful information of various types of 'mediation'. It's so good to say out-of-court if matters can be worked out thru mediation with a specialty lawyer. I absolutely recommend this book!!
Julie McClintick
Outstanding helpful info about a various divorce elements

I obtained this book to share with my best friend. Honestly, I had no intentions of reading the book, only passing it on. But to my surprise, I found it an eye-opening experience! My perception was anytime you deal with attorney's, it's how many hours can they bill me for! I was shocked to learn about the personal challenges the author experienced with her own personal divorce, health issues and challenges in obtaining further education.
I found the following sentence as a very bold and honest assessment: "Who are the best candidates for mediation? People who love their children more than they hate each other." I am so impressed Marta Pappa, attorney specializing in divorce obtained a post graduate certificate in "Marriage and Family Therapy". How many divorce attorney's have these credential's? Well written book by a credible attorney that is more interested in helping people than making a profit! Great source of information for anyone considering divorce.
Mike Detrick
Great advice for anyone considering divorce!

These 'Secrets' are so thoughtfully spelled out for anyone to use! Very impressed with all that went into this book–The Divorce Whisperer knows her stuff! A great gift if you know anyone in need of support through divorce.
Amy
Such a support to have this book!

I found Marta's advice and real-life examples tremendously helpful. Her recipe for mediation allows everyone to save face and uncouple with a minimum of arguments and jockeying for position. Most important it keeps children front of mind and doesn't require a ton of money. I have heard so many horror stories about divorce yet this book along with Marta's solid advice shows another way, a humane and civilized way to do this as adults who had a good run that ended. This is a must-read for anyone who wants to find a positive way to uncouple.
Raplanos
A Thoughtful and Commonsense Approach to Divorce that preserves children, dignity and finances.